Episode Thirty-Eight
My Final Gift to You
(August 18, 2017)
Episode Thirty-Nine
Nowhere to Go
(August 25, 2017)

Ryo abducts Two, hoping that the crew of the Raza will give him the Blink Drive in exchange for her release.
The Raza's crew attempt to unite Ferrous Combine's enemies and put an end to the corporate war before the new fleet can be used.
The
Dark Matter Wikia
is dedicated to becoming an online resource for the series, Dark Matter. We aim to provide information on the characters, episodes, relationships and all aspects of the series. The wiki is open to all contributors. Please ensure you read our Policies and Layout guides prior to editing.
Home to
339
articles and
1,911
files.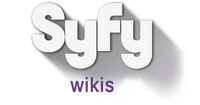 Name
Portia Lin
Bio
Portia Lin is tough both inside and out. She has the true makings of a leader, showing both strength and compassion. She is also determined and headstrong and won't let anyone or anything stand in her way.